Ⅰ. Usage of Used Oil Distillation Plant
used oil distillation plant is suitable for the regeneration of waste oil. Using vacuum distillation, it can quickly separate various contaminants such as moisture, impurities, carbon and emulsion in the waste oil to obtain high-quality oil. The equipment has a recovery rate of over 95%, is easy to operate, and automatically feeds. It is especially suitable for regenerating used internal combustion engine oil, including diesel engine oil, gasoline engine oil, waste hydraulic oil, and other waste engine oil.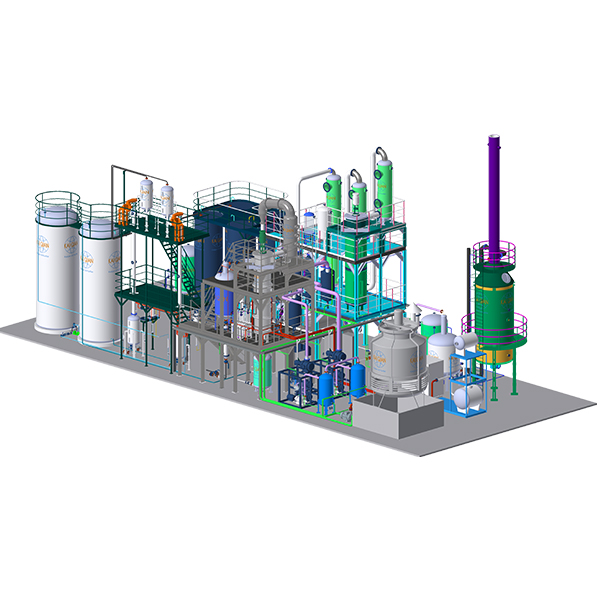 Ⅱ. Used Oil Distillation Plant Workflow
The waste oil containing impurities and moisture is heated to 80℃Cthrough a steam heat exchanger → to a filter to remove 5-15um impurities and then to an oil storage tank → the steam heat exchanger is heated to 100 ℃→ into a spiral spray atomization system The waste oil turns into a mist to a high-vacuum separation tower, and the water begins to evaporate. The oil mist forms a three-dimensional, multi-layered evaporation structure in the vacuum separation tower. The hot water vapor separated from the vacuum separation tower enters the cold doubt. Most of the water vapor is condensed as water is stored in the water storage tank, and the water is discharged out of the machine after being purified by the coalescence separator. The purified lubricating oil is discharged through a bottom oil drain pump to complete a purification cycle.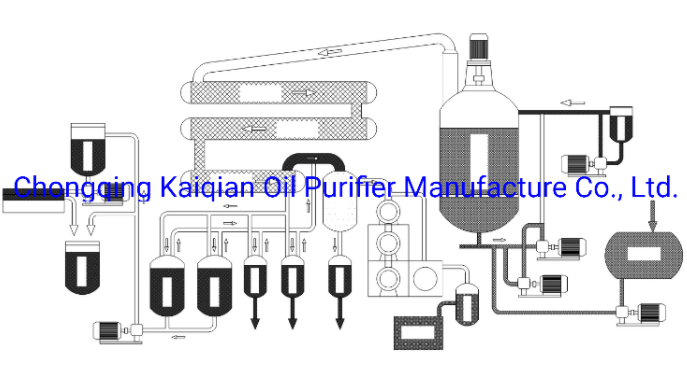 Ⅲ. Used Oil Distillation Plant Five advantages
① The efficiency of regenerating the base oil is high, the process is simple, and the regeneration cycle is short;
② Adopting thin film evaporation process to improve evaporation efficiency and reduce energy consumption;
③ The entire system operates under high vacuum, which reduces problems such as high temperature cracking, polymerization, and equipment blockage;
④The waste mineral oil does not undergo the steps of acid washing, alkali neutralization, water washing, etc. During the production process, no acid residue and waste water are generated, secondary pollution is reduced, and good environmental protection effects can be achieved;
⑤ Residual kerosene and light fuel oil produced after regeneration can be sold as fuel, and resources are fully utilized.

Ⅳ. Used Oil Distillation Plant Models and Parameters

Model

designation

Unit

KTS-R2-5

KTS-R15

KTS-R20

KTS-R30

KTS-R50

KTS-R100-200

Handling

Capacity

T/D

2-5

15

20

30

50

100-200

Working

Pressure

Mpa

≤0.5

Working vacuum

pa

-5~ -20

Temperature

℃

≤350

Working Noise

dB

(A)

≤85

The power

V

380-480V/50-60Hz Three-phase four-wire(Customizable as required)

Total Power

KW

80

120

125

140

200

300-600

Cooling Water

M³

35

40

50

60

80




Weight

T

16

19

22

26

46




Dimension

L

m

15

17

17

25

45






W

m

4

6.5

10

12

16






H

m

6

6

6

6

6.5




Notification

1.We can customize 150 -300TPD equipment as required

2.Diesel and natural gas heating method will be more economical.
Ⅴ.Why Choose Our Products
kaiqian oil purifier can produce 2000 sets of oil filter equipment and other purification equipment every year. We are one of the global competitive companies focusing on the research and manufacture of high-tech oil purifiers. The equipment is sold to nearly 50 countries around the world! Provide online technical support and on-site service engineering to support customers' operational needs.
We provide various oil purifier models. Our product sizes and materials are customized according to needs, and the capacity ranges from less than 1200L/H to 24000L/H.
→1. We are an oil purifier manufacturer, factory direct sales, no intermediate links, competitive prices.
→2. Our equipment is imported accessories, and the quality of the products produced is stable.
→3. To ensure on-time delivery, we can provide the best quality service, transportation, document preparation, etc.
→4. We will answer your inquiry within 3 hours.
→5. With more than 12 years of R&D experience and a professional technical team in the oil filter industry, our customers feel relaxed and happy when working with us.
Welcome to contact us for more equipment information(+86 139 8303 1725 WhatsApp / WeChat 24-H service)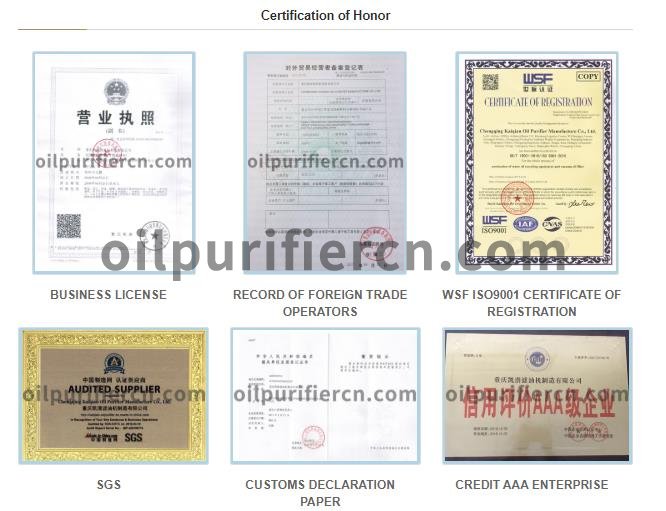 FAQ

1. Can the distillation equipment regenerate mixed oil?
Yes, it can regenerate mixed oil, and it can also process diesel engine oil, gasoline engine oil, hydraulic oil, gear oil and other industrial lubricants.
2. How to deal with residues and by-products?
The filtered residue can be burned by customers or sold as fuel to other factories.
3. How can I buy this machine?
First, discuss all the detailed information of the machine with our sales staff, we will verify the equipment technical data with you, and then discuss the price and confirm the price.
Then, you arrange a deposit, after receiving the deposit, we produce the machine.
Finally, packaging and shipping the machine for you. The installation and commissioning of the equipment shall be performed after the arrival of the equipment.We also provide customers with turnkey projects. We will build a workshop including auxiliary facilities for customers
4.What Is the Machine Price, Shipping/Transportation Cost, Land Area Required and Delivery Time?
All of which will be depending on the following questions:
What is the raw material you're planning to process?
What is the end/final product you'd expect to get through the machine?
What is the daily capacity?
So we can confirm the machine size, costs, containers it needs for shipping, etc.
5.What is your after-sales service?

For simple machines, we provide online guidance services, if within the warranty period (one year), we provide free replacement parts, if it is our deadline, we will charge a fee.
For large equipment, we will send engineers on-site to guide the installation and train the staff, and then leave after the equipment is operating normally.