Ⅰ. Turbine Oil Filtration Machine Usage
  TY-Q series Turbine Oil Filtration Machine is widely used in electricity, chemical, paper making, oil plant and metallurgy industries etc. and dealing with the unqualified turbine oil. The machine was equipped with precision filtration, vacuum drying, coalescence separation and three - dimensional spiral atomization technology, after the treatment, the gas, moisture, acid, foaming in the emulsified oil will become clear and meet the using standard. Effective guarantee turbine turbine oil life, is the ideal equipment to purify turbine oil on-line.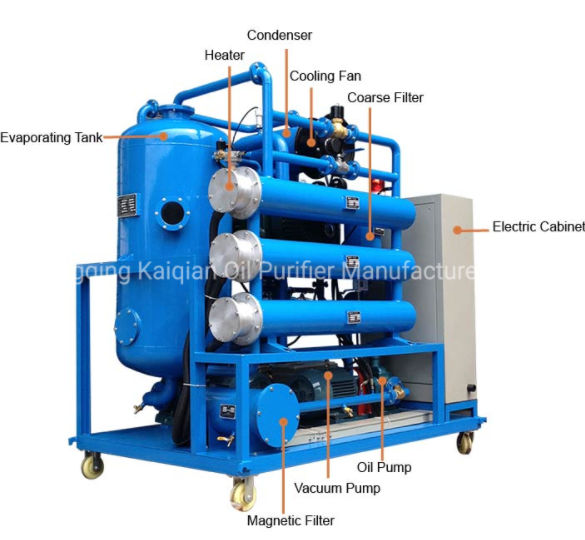 Ⅱ. Turbine Oil Filtration Machine Function
  1. improve the cleanliness of lubricating system on Dilute Oil Station and oil tank, impurity and dewatering degassing and impurities removal.
  2. It can remove not only 100% free water and 99.9% dissolve water, but also 100% free gas and 98% dissolve gas, and the ends oil will meeting the national using standard.
  Ⅲ. Turbine Oil Filtration Machine Advantage
  3.1 Application of the advanced technology at home and abroad on similar equipment, . with the characteristic of high vacuum in working, fast speed in oil purifier and the high precision, etc.
  3.2 It units the precisive filter and high dehydration, applied the advanced vacuum coalescence separation technology, which with the high dehydration, high ability in purifying low viscosity light turbine oil, hydraulic oil, antiwear hydraulic oil and gearbox oil. After the treating, the cleanness of medium will be promoted at level 6 ≥ DAS1638, the physical and chemical of the oil will keep the same, with higher lubricant effect, lower consumption, lower fee in working, better system setting, stronger continuous working ability and more suitable in online working.
 Treated Turbine Oil Parameters

Items

unit

Treatment parameter

est Method

Mechanical impurities

%

无

GB/T511

Demulsibility number

Min

≤15

GB/T7605

Moisture

Mg/L

≤50PPM

GB/T7600

Acid value

mgkoH/g

≤0.3

GB/T264

Cleanness-degree

Grade

≤6

NAS1638

Filter precision

≤3um 
TY-Q Series Turbine Oil Filtration Machine Technical parameters
model

item

unit

TY-Q20

TY-Q30

TY-Q50

TY-Q80

TY-Q100

TY-Q150

TY-Q200

TY-Q300

flow

L/min

20

30

50

80

100

150

200

300

working vacuum

Mpa

-0.08~-0.096

working pressure

Mpa

≤0.5

working temperature

℃

≤20~80 freely adjustable

power

V

380-480V/50-60Hz Three-phase four-wire(Customizable as required)

electrical

kw

24

30

36

42

48

54

60

72

total power

kw

26

33

39

46

53

66

74

84

inlet/outlet pipe

mm

Φ25

Φ32

Φ32

Φ42

Φ42

Φ48

Φ48

Φ60

weight

Kg

385

450

550

600

800

850

1000

1200

Dimension

L

mm

1350

1400

1450

1500

1550

1550

1700

1850




w

mm

850

950

1100

1100

1150

1150

1450

1450




H

mm

1600

1650

1700

1700

1750

1800

1850

1910
  Note: The outline dimensions and the product weight is updating according to the improving technical. Pls take the real product as standard.(We can manufacture this machine with customer's demands, we offer the closed type, conceal eaves style and the trailer type.)