Ⅰ. TY-B Series Explosion-proof Vacuum Oil Purifier Usage  
Explosion-proof vacuum oil purifier is suitable for the occasions of filtering flammable and explosive media such as lubricating oil and diesel oil in the petroleum, chemical, aerospace and other industries. The equipment is equipped with three-stage precision filtering. The precision filter can choose different precisions according to the different needs of users to achieve the required results.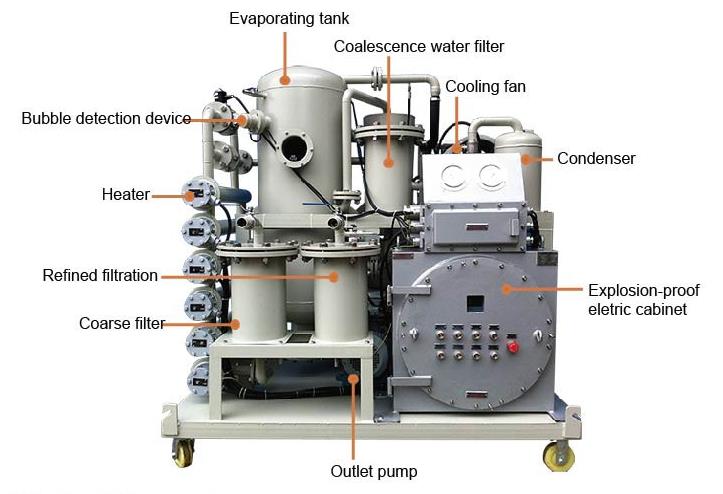 Ⅱ. TY-B Series Explosion-proof Vacuum Oil Purifier Features:
2.1 The vacuum separation system effectively separates water and impurities so that the turbine oil meets the service standards.
2.2 The all anti-explosion measurements take use of the safe and reliable recycling carbon fiber heating technology make the average heating and stable temperature while reducing energy consumption
2.3 This equipment uses multi-stage precision oil filter, which can be reused after cleaning.
2.4 The oil level control system and overload pressure protection settings ensure the safe operation of the machine.
2.5 The use of advanced explosion - proof electronic liquid level control system make the controlling become all automatic.
  Treated Oil Index by TY-B Series Explosion-proof Vacuum Oil Purifier
Items

After treatment

Test method

Mechanical impurity

No

GB/T511

Water content in oil

No trace

GB/T260

Gas content in oil

≤0.1

GB/T423

Cleanliness

≤Grade 6

NAS1638

Filtration accuracy

3—5um
  TY-B Series Explosion-proof Vacuum Oil Purifier Technical parameters
models

Items

Unit

TY-B20

TY-B30

TY-B50

TY-B80

TY-B100

TY-B150

TY-B200

TY-B300

Flow rate

L/min

20

30

50

80

100

150

200

300

Working vacuum

Mpa

-0.08~-0.096

Working pressure

Mpa

≤0.5

Working temp.

℃

10-80 Adjustable setting

Power supply

V/HZ

380-480V/50-60Hz Three-phase four-wire(Customizable as required)

Total power

KW

15~200

Pipe diameter

Mm

Φ25

Φ25

Φ32

Φ38

Φ45

Φ45

Φ48

Φ65

Weight

Kg

385

450

550

600

800

850

1000

1200

Dimension

L

mm

1350

1400

1450

1500

1550

1550

1700

1850




W

mm

850

900

1000

1100

1150

1150

1450

1450




H

mm

1600

1650

1700

1700

1750

1800

1850

1910
Note: the size and weight of equipment with the technology progress slightly adjusted. (the device is closed, opaque type also can be produced according to customer requirements)