Ⅰ.Mobile Turbine Oil Recycling System Working Principle
The machine used vacuum separation and precision mechanical purifier principle, adopt molecular adsorption, vacuum drying, mechanical filtration and many other technologies, the lubricant vacuum purifier machine is a complete machine without any attached mechanical equipment. Used different saturated temperature curve vacuum drying principle between water and oil, can high-efficient separation waster and oil , and deep precise filtration theory.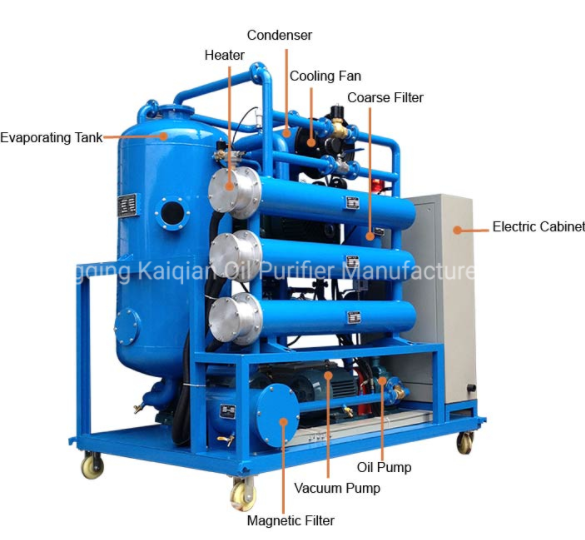 Ⅱ. Mobile Turbine Oil Recycling System Working Process
After the first filtration, the oil enters the heating device, after heating, it enters the spiral spray atomization system after the second filtration. When the insulating oil becomes coarse particles, it enters the reaction tower, enters the vacuum separation chamber, and then the water starts to evaporate. The oil mist enters the three-dimensional multi-stage evaporation evaporation structure in the container. It can purify oil in a short time. Oil free of impurities, moisture, gases and acids will pass through a clean oil working cycle through precision filters. The steam and hot air separated from the vacuum chamber will enter the condenser. Most of the moisture will become water and be stored in the water tank and discharged from the machine. The hot air will be cooled and discharged from the vacuum pump.
Mobile Turbine Oil Recycling System Flow Chart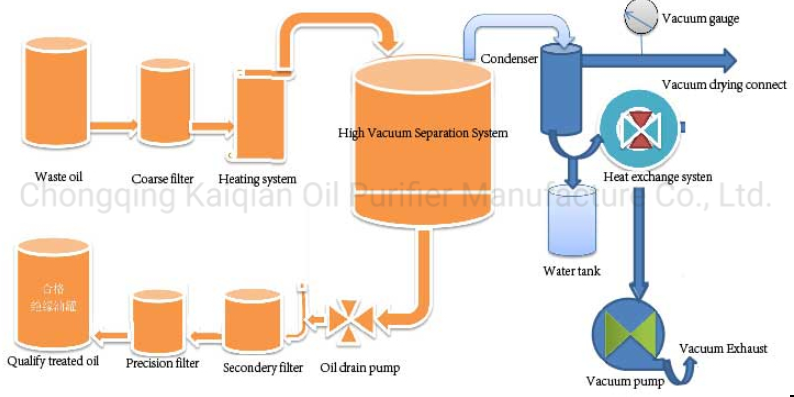 Ⅲ. Mobile Turbine Oil Recycling System Function.
3.1 improve the cleanliness of lubricating system on Dilute Oil Station and oil tank, impurity and dewatering degassing and impurities removal.
3.2 It can remove not only 100% free water and 99.9% dissolve water, but also 100% free gas and 98% dissolve gas, and the ends oil will meeting the national using standard.
  TY-Q Series Mobile Turbine Oil Recycling System Technical Parameters
model

item

unit

TY-Q20

TY-Q30

TY-Q50

TY-Q80

TY-Q100

TY-Q150

TY-Q200

TY-Q300

flow

L/min

20

30

50

80

100

150

200

300

working vacuum

Mpa

-0.08~-0.096

working pressure

Mpa

≤0.5

working temperature

℃

≤20~80 freely adjustable

power

V

380-480V/50-60Hz Three-phase four-wire(Customizable as required)

electrical

kw

24

30

36

42

48

54

60

72

total power

kw

26

33

39

46

53

66

74

84

inlet/outlet pipe

mm

Φ25

Φ32

Φ32

Φ42

Φ42

Φ48

Φ48

Φ60

weight

Kg

385

450

550

600

800

850

1000

1200

Dimension

L

mm

1350

1400

1450

1500

1550

1550

1700

1850




w

mm

850

950

1100

1100

1150

1150

1450

1450




H

mm

1600

1650

1700

1700

1750

1800

1850

1910