Ⅰ. Use Of Used Oil To Diesel Oil Refinery Machine
This machine widely used in recycle tyre/tire oil into diesel, plastic oil into diesel and other pyrolysis oils into diesel. The waste oil distillation plant adopts high vacuum distillation process, it can convert waste oil into diesel, low cost, 85-95% high recovery rate, environmental and energy saving. The output diesel can be used as diesel fuel(not the standard diesel), it can be used in factories or big vehicles.
Ⅱ. Used Oil To Diesel Oil Refinery Machine Principles
It adopts high vacuum distillation, thin film flash evaporate distillation technology, which is different from the traditional distillation method separated by boiling point. (eg: separating by traditional technology requires the boiling point difference around 350ºC, while the high vacuum molecular distillation technology only requires about200ºC ), it makes the vacuum liquid - liquid separation come true, also with reflux tower to make oil quality better, with distillation tower to separate oil into different lines.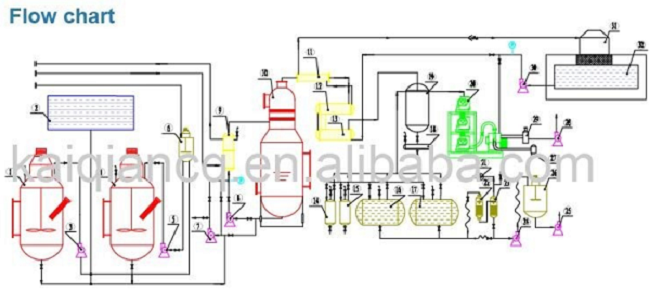 Ⅲ.Used Oil To Diesel Oil Refinery Machine Advantage
The equipment is easy to operate and has low operating cost; it is very environmentally friendly and has no secondary pollution; no peculiar smell

This machine can recycle gasoline, diesel, engine oil, rubber oil and other lubricating oil;

Suitable for large-scale industrial production

Recovery rate is greater than 85%

All our machines have been designed and developed after years of experimentation.

The equipment working temperature is low (far below the boiling point), and the vacuum degree is high

The equipment is highly automated and easy to learn. It only needs 1-2 workers to operate.

According to customers' requirements, the vacuum distillation equipment can be divided into continuous-production and batch production.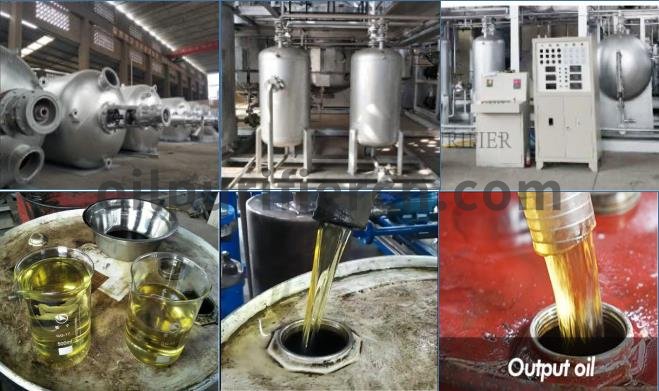 Ⅳ.Used Oil To Diesel Oil Refinery Machine Product Yield
The product yield (calculated according to the crude oil without water content) produced by this process is as follows:
4.1 85-90% of refined products of industrial fuel oil meet the standard of non-standard diesel oil.
4.2 The equipment is highly automated and easy to learn. It only needs 1-2 workers to operate. Generally, you can learn to operate in three or four days and start the process in a week.
Ⅴ. Used Oil To Diesel Oil Refinery Machine Refined Oil Index
NO.

Item

Test Method

Refined Oil Index

Standard Value

01

Viscosity(15℃)

ASTM D1298

0.84kg/L

.....kg/L

02

Viscosity index (40℃)

ASTM D445

3.36cst

1.6-5.8cst

03

Pour Point

ASTM D97

-19℃

≥0℃

04

Flash Point(open)

ASTM D93

60℃

≥55

05

Water Content

ASTM D95

Trace%vol

≤Trace %vol

06

Sulfur

ASTM D1226

0.15%Wt

0.2%Wt

07

color

Yellow / transparent / Pale yellow / transparent
Ⅵ.Used Oil To Diesel Oil Refinery Machine Models and Specifications
Model

designation

Unit

KTS-C5

KTS-C15

KTS-C20

KTS-C30

KTS-C50

KTS-C100

Handling Capacity

T/D

5

15

20

30

50

100

Working Pressure

Mpa

≤0.5

Working vacuum

pa

-5~ -20

Temperature

℃

≤350

Working Noise

dB(A)

≤85

The power

V

380-480V/50-60Hz Three-phase four-wire(Customizable as required)

Total Power

KW

80

120

125

140

180

210

Cooling Water

M³

35

40

50

60

80

160

Weight

T

16

19

22

26

46

56

Dimension

L

m

15

17

17

25

35

45




W

m

4

6.5

10

12

16

20




H

m

6

6

6

6

6.5

8

Notes

1.We can customize 150 -300TPD equipment as required

2.Diesel and natural gas heating method will be more ceonomical
Ⅶ.Why Choose Our Products
kaiqian oil purifier can produce 2000 sets of oil filter equipment and other purification equipment every year. We are one of the global competitive companies focusing on the research and manufacture of high-tech oil purifiers. The equipment is sold to nearly 50 countries around the world! Provide online technical support and on-site service engineering to support customers' operational needs.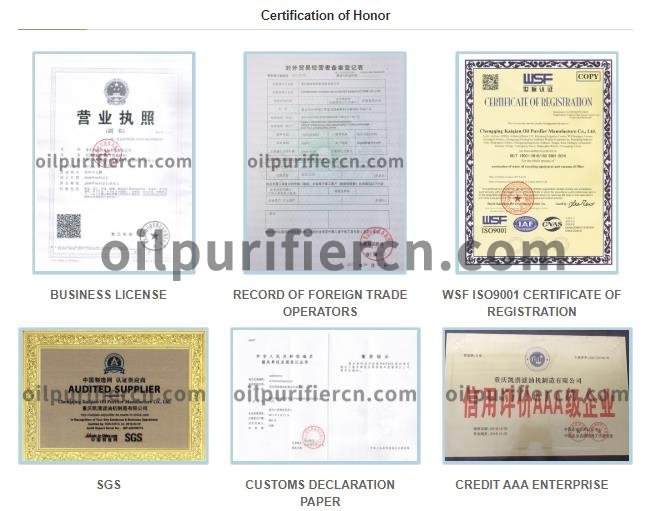 We provide various oil purifier models. Our product sizes and materials are customized according to needs, and the capacity ranges from less than 1200L/H to 24000L/H.
→1. We are an oil purifier manufacturer, factory direct sales, no intermediate links, competitive prices.
→2. Our equipment is imported accessories, and the quality of the products produced is stable.
→3. To ensure on-time delivery, we can provide the best quality service, transportation, document preparation, etc.
→4. We will answer your inquiry within 3 hours.
→5. With more than 12 years of R&D experience and a professional technical team in the oil filter industry, our customers feel relaxed and happy when working with us.
Welcome to contact us for more equipment information(+86 139 8303 1725 WhatsApp / WeChat 24-H service)
Ⅷ.Services provided by Kaiqian
In the process of equipment debugging, professional technical engineers will provide overseas services and train professional operators
Provide equipment technical information, equipment list, etc.
Provide technical services for life, provide equipment wearing parts and consumables.
Design and produce according to customer site conditions to meet user needs.
Receive service information and respond within 2 hours.
Our company will provide technical cooperation for the equipment related to the equipment purchased by the buyer, and no cost will be incurred.
Packaging

Case